Forumsbetreiber
Teammitglied
C28POR Dragonfly2 Orange Lightweight CLIPIT
C.Q.I.-Constant Quality Improvement is a process Spyderco uses to evaluate and refine longstanding and established knife models. Spyderco applied C.Q.I. to the classic Dragonfly Lightweight CLIPIT to create a new Dragonfly2 Lightweight that is now available with a safety orange FRN (fiberglass reinforced nylon) handle. Precise positioning of the Spyderco Round Opening Hole, in relation to the pivot's location, provides ultra-smooth opening and the FRN handle ergonomically fills the hand with grip angles and leveraging spots. A left/right tip-up wire clip, Spyderco's patented Bi-Directional handleTexturing™ and choil/spine jimping are added components to ensure the folder is a highly functional cutter in a compact package. The blade is made from premium VG-10 with a high-performance flat-grind and comes with a PlainEdge cutting surface. Overall length: 5-9/16" (141mm). Blade length: 2-1/4" (57mm). Weight: 1.2oz (34g).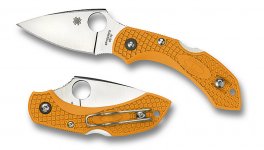 C11PTID Delica4 Titanium/ VG-10 Damascus CLIPIT
The Delica is one of Spyderco's oldest and most popular designs. In honor of the critical role that the Delica has played in Spyderco's history, it seemed fitting to offer a full-production premium version of this iconic design. The result is the Titanium/Damascus Delica4. Known as D.P.S. 15, the blade material is produced by Takefu Special Steel Company, Ltd. in Japan. It consists of a VG-10 stainless steel core sandwiched between two outer layers of Damascus steel. Each of the Damascus layers is composed of 15 layers of forge-welded steel, beautifully patterned and etched to reveal the detail of the structure. To complement the dramatic blade of this Delica, the handle is precision machined from solid 6AL-4V titanium. The titanium scales are precision machined and bead blasted to a handsome grey finish. All components are assembled with precision stainless steel Torx® hardware and meticulously hand finished. Extra touches of class include a stainless steel liner tube in the lanyard hole and a polished stainless steel clip configurable for left or right-side tip-up or tip-down carry. The Titanium/Damascus Delica4 elevates this iconic design from a supremely dependable everyday tool to a fully functional piece of art. Overall open length: 7.15 in (182 mm). Weight: 3.0 oz (85 g). Blade length: 2.95 in. (75 mm).
C146CFBBK Szabo Folder Black Blade CLIPIT
Laci Szabo became a knife designer and cutlery purveyor in 1993. He was welcomed into the knife industry as a self defense and martial arts expert with a talent for designing the specialized tools used in these martial arts. A new version of his popular Spyderco/Szabo folder has a CPM S30V blade that is blackened with a non-reflective TiCN coating. The blade is uniquely shaped like a scimitar to ease into a cut with maximum penetration and performance. The ergonomic handle is made of black Cubic Check carbon fiber/G-10 laminate with full internal stainless steel liners. To support the 4.6 in blade, the Compression Lock is enhanced and an independent self-closing mechanism is added. Specialized for self defense, it is a highly refined cutting tool with a four-position pocket clip and screw together construction. Overall open length: 10.31 in (262 mm). Weight: 6.8 oz (143 g). Blade length: 4.6 in. (117 mm).
C152STIF Chaparral Stepped Titanium CLIPIT
The third folder in Spyderco's Chaparral Series is the Chaparral Stepped Titanium. It has a titanium handle meticulously CNC machined with a three-dimensional stepped pattern that is an optical illusion. It appears to be a series of looping curves but if closely examined, the pattern is actually made up of intersecting straight lines. One of the Spyderco's thinnest, lightest mid-sized CLIPITs yet, the Chaparral Stepped Titanium features a titanium handle, a mid-positioned back lock and screw-together construction. Affixed to the back scale of the slender handle is a left-right, tip-up clip to position the knife deeply inside a pocket. Carpenter Steel Inc. produces the exceptional CTS XHP powdered steel used for the leaf-shaped blade. The blade is ground fully-flat with a PlainEdge and non-skid jimping, located at both the spine and choil, offer superior hand purchase for the finest cutting performance. Overall open length: 6.35 in (161 mm). Weight: 2.7 oz. (77 g). Blade length: 2.75 in (70 mm).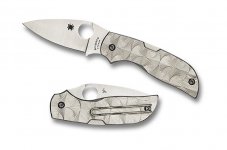 C163POR Pingo Slipjoint
The Pingo was designed to conform to the knife laws of Denmark, which prohibit both lock-blade folding knives and all forms of one-hand-opening knives. The result is a collaboration with Spyderco and Danish custom knifemakers Jens Anso and Jesper Voxnaes. Their knife is fully compliant with Danish knife law and features a non-locking notched joint mechanism that is a mechanically evolved version of the traditional slipjoint system. It is called a Pingo, which means penguin in Danish. The heart of the knife is its distinctive sheepfoot blade, ground from Böhler-Uddeholm's premium N690Co stainless steel. Its Trademark Round Hole identifies it as a Spyderco knife and provides a handy purchase for two-handed opening, but the hole is purposely small to prevent one-handed blade-opening, keeping it within legal parameters. Similarly, its hefty notched-joint mechanism is powered by a strong spring that holds the blade securely in the open and closed positions, supporting its safe use as a cutting tool while precluding one-handed opening. The Pingo is available with a black or safety orange handle made of injection-molded fiberglass-reinforced-nylon (FRN) with a sturdy stainless steel back spacer. The scales are molded with a checkered texture to provide a secure grip and a reversible deep-pocket wire clip positions the knife for left and right-side tip-up carry. The Pingo's versatile design and socially friendly demeanor make it a perfect choice for knife users everywhere. Overall open length: 5.80in (147mm). Blade length: 2.35in (60mm). Weight: 1.9oz (54mm).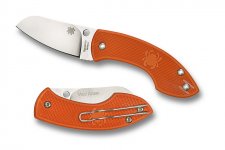 C172CFP Domino CLIPIT
Designed by Eric Glesser, the Domino is the second Spyderco knife to feature a Kit Carson-inspired flipper opener. Its full-flat-ground blade is machined from premium CTS XHP Carpenter steel and rides on specially designed ball bearing washers for an ultra-smooth opening action. The handle features a solid titanium scale on one side and a titanium liner and black Cubic Check Carbon Fiber Laminate scale on the other. The titanium scale houses a high-strength Reeve Integral Lock (R.I.L.) mechanism with a steel interface that serves double duty as an over-travel stop. For ease and versatility of carry, the Domino also includes a black, four-position pocket clip. Overall open length: 7.68in (195mm). Blade length: 3.13in (80mm). Weight: 4.1oz (116g).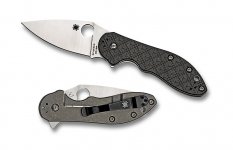 C173 Hungarian Folder CLIPIT
The latest edition to Spyderco's groundbreaking Ethnic Series of knives, the Hungarian folder pays homage to the traditional pocketknife of Hungary. Designed by Hungarian architect and knife enthusiast Szakonyi Gábor, this beautiful knife faithfully captures the graceful lines of the traditional "fejesgörbe" ("header curved") folding knife, as well as the spirit of quality that typifies Hungarian folk art. Featuring Walker LinerLock construction, full stainless steel liners, sculpted stainless steel bolsters, polished G-10 scales, and a full-flat-ground CTS™ XHP blade, this extraordinary knife represents a powerful links between traditional artistry and state-of-the-art manufacturing. Overall open length: 8.46in (215mm). Blade length: 3.63in (92mm). Weight: 4.3oz (122g).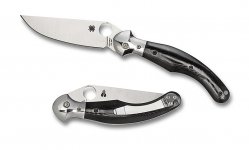 C174GP Double Bevel CLIPIT
Widely acknowledged as the father of custom tactical folding knives, Bob Terzuola designed the Double Bevel to offer both the superior edge geometry of a full-flat grind and the strength of a hollow ground blade with full thickness spine. Its VG-10 steel blade features a tanto-style point for strength and the sleek profile that characterizes Terzuola's no-nonsense designs. The ergonomic handle's textured G-10 scales provide a secure grip and are supported by skeletonized liners that also form the foundation of the knife's sturdy Walker LinerLock™ mechanism. A 4-way clip gives the user immediate access. Overall open length: 7.56in (192mm). Blade length: .39in (86mm). Weight: 3.5oz (99g).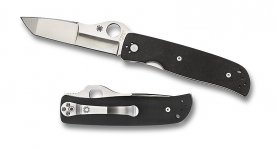 FB32GP Serrata
Stuart Ackerman is a custom knifemaker from New Zealand with a penchant for practical fixed-blade knives that you can count on in a pinch. His Serrata design definitely fits that description. Its thick, leaf-shaped blade is made by casting 440C stainless steel—a process that creates dendritic ("tree-like") crystalline structures that give it exceptional strength, ductility, and cutting ability. The blade is full-flat-ground for strength and has a distal taper to reduce weight, enhance edge geometry, and provide an exceptional balance. Its contoured handle scales are made of black Micarta and are meticulously shaped to fill the hand while eliminating "hot spots." The Serrata comes complete with a custom-molded Boltaron® sheath with G-Clip attachment. Overall Length: 9.00 inches (229mm). Blade Length: 4.65 inches (118mm). Weight: 6.2 oz. (126g).
Spyderco, Inc
820 Spyderco Way
Golden, Colorado 80403
Web: www.spyderco.com