Forumsbetreiber
Teammitglied
Spyderco Domino Flipper
One of Spyderco's guiding principles is "No more than necessary; no less than perfect." Our new Domino folding knife is a shining example of this concept, combining an understated, but highly efficient "flipper" with the advanced ergonomics and high-performance cutting capability that make Spyderco knives unique. Designed by Eric Glesser, this performance-driven knife is our second model to feature a flipper (the first was the Southard Folder). Originally developed by custom knifemaker Kit Carson, a flipper is a small integral tab that extends from the edge side of the blade's tang. When the knife is closed, it protrudes slightly from the back of the handle, where a slight pull of the index finger provides leverage to overcome the blade detent and rotate the blade into the open position.
The Domino's flipper is a minimalist design that does not interfere with the knife's refined ergonomics or prevent it from being opened via the blade's Trademark Round Hole™. It is perfectly positioned to offer optimal leverage and is supported by special ball-bearing washers in the pivot that reduce friction to guarantee a smooth, reliable opening. In the open position, the flipper practically disappears into the grip-friendly contours of the handle.
Precision machined from CTS® XHP stainless steel, the Domino's blade features a full-flat grind for superior edge geometry and a distal taper that ensures an acute point. It is mated to a handle that consists of a solid titanium scale on one side and a titanium liner and carbon fiber/G-10 laminate scale on the other. The solid titanium scale forms the foundation of the Domino's sturdy Reeve Integral Lock (R.I.L.), which features a hardened steel interface that ensures a long service life and doubles as an overtravel stop for the lock. On the other side of the handle the Cubic Check carbon fiber/G-10 laminate scale boasts an intricate geometric pattern that is both visually stunning and provides an enhanced grip texture.
Designed to be carried and used, the Domino has a slim, pocket-friendly profile and an open-backed construction that reduces weight and allows easy cleaning. The Domino also boasts a four-position pocket clip—a unique feature for a flipper-style knife—that allows tip-up or tip-down carry on both the left and right sides of the body. Its long textured thumb ramp and forefinger choil (finger groove) comfortably support a wide range of grip options and ensure positive control during use. The Domino is a vivid reflection of Spyderco's design philosophy that integrates all the defining characteristics of our approach to knifemaking into a uniquely functional cutting tool. We're confident that you'll be as excited about it as we are.
http://www.spyderco.com/catalog/details.php?product=839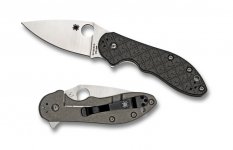 Spyderco Ethnic Series: Navaja
As one of man's oldest tools, the knife has taken many forms throughout history. Beyond its roles as a simple working tool and a weapon, the knife has also become an iconic symbol of the cultures that created it and a direct reflection of their values, beliefs, and identities.
The astonishing variety of knives in the world includes patterns that are purely functional, others that are primarily symbolic, and some that offer a unique combination of those qualities. But regardless of their actual purpose, many of these blades have become unmistakable emblem of the people and societies that created them. These unique knives were the inspiration for Spyderco's "Ethnic Series."
The Ethnic Series was originally conceived to recognize and pay homage to the distinctive cultural knives that have evolved through history. In addition to recognizing blade styles that are well known to collectors and historians, Spyderco's Ethnic Series was also developed as a means to highlight obscure cultural knives, their qualities, and the significance they hold to the people that created them.
Although other companies have produced historical reproductions of native patterns, Spyderco's Ethnic Series chooses to honor these designs in a different way: by expressing them primarily in the form of a modern folding knife. This format pushes the design envelope of the folder, challenging convention while still paying tribute to the traditional ethnic patterns. The result has been—and continues to be—an extraordinary accomplishment in modern knife design and manufacture.
Throughout the history of this project, Spyderco has partnered with some incredibly talented knifemakers who have been instrumental in translating the qualities of ethnic patterns into fully functional, state-of-the-art folding knives. The late Eduard Bradichansky, the late Bob Lum, and our current ethnic specialist Ed Schempp have all shared Spyderco's vision for this project. The knives in the Spyderco Ethnic Series are therefore just as much a tribute to their talents as they are to the cultures and traditional blades that inspired them.
Spyderco's current product line includes several Ethnic Series knives: the Chinese Folder (Bob Lum), the Navaja (Ed Schempp), and the Puukko and Nilakka (Pekka Tuominen). These will be joined in late 2013 by the Hungarian Folder, a design adapted from the traditional pocketknife of Hungary by Szakonyi Gabor.
Spyderco takes great pride in the knives of our Ethnic Series and we sincerely hope that our customers enjoy them both for their own qualities and for the rich cultural heritage that inspired them.
http://www.spyderco.com/catalog/details.php?product=632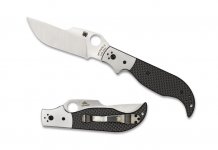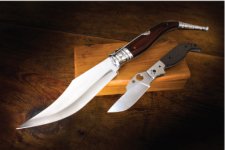 Announcement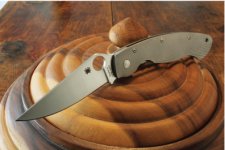 Dear Spyderco Enthusiast:
Since we produced our first knife more than 30 years ago, Spyderco has always worked hard to push the limits of knifemaking quality and innovation. In the process, we have also learned to balance our uncompromising commitment to quality with the need for increased production volume.
The C36TIFP Fluted Titanium Military Model is one of the most visually stunning knives we have ever produced. Unfortunately, the painstaking processes required to achieve the rich blue handle color have hampered our ability to produce and deliver this knife in substantial quantities. To improve this situation and our productivity of this popular design, after careful consideration, we have decided to curtail the handle coloring process in favor of a bright silver finish.
This change is being implemented with current production, so all future manufacturing of this model will feature the silver finish. All inventory of colored handle components has already been exhausted and shipped to our dealers.
We truly appreciate your interest in Spyderco products and are committed to doing everything possible to support that interest by making our knives more readily available. Thank you for your understanding and patience. We are confident that the quality of our knives and the passion we put into them will make them well worth the wait.
Sincerely,
The Spyderco Crew
http://www.spyderco.com/catalog/details.php?product=648

Spyderco
820 Spyderco Way
Golden, CO 80403
Corporate Headquarters

Phone: 303-279-8383
Toll-Free: 800-525-7770
Fax: 303-278-2229

Hours: (Mountain Standard Time)
M-F 7:30am - 4:30pm​