Ti-Spine Titanium
We have made a new knife, TiSpine. It is a monolithic Titanium frame, 6Al4V, with a frame lock system (like SR1). The handle is worked with a 4 axis milling machine in order to have a full ergonomic titanium's handle. Available in Matt or Shiny versions in three differen colors.
The blade is made of ELMAX Uddeholm Sweden, powder metallurgy production, with 59-60 HRC hardness. Design by RYP, Rober Joung Pelton.
Variant: Shiny Grey
Overall length: 195 mm. - 7.68 in.
Blade length: 85 mm. - 3.35 in.
Blade thickness: 3.5 mm. - 0.14 in.
Net weight: 100 gr. - 3.53 oz.
Handle: Titanium
Frame: Titanium 6Al4V
Blade steel: Elmax 59-60 HRC
Packaging: Plexiglass tube
Lion Steel - TiSpine Violet Matte - TS-1VM - knife
euro 310
Buy online on:
http://www.coltelleriacollini.com/lion-steel-tispine-violet-matte-ts-1vm-coltello/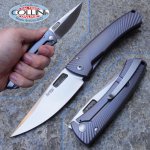 Lion Steel - TiSpine Matte Bronze - TS-1BM - knife
euro 310
Buy online on:
http://www.coltelleriacollini.com/lion-steel-tispine-bronze-matte-ts-1bm-coltello-5047/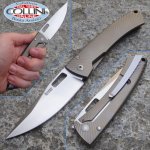 Lion Steel - TiSpine Grey Matte - TS-1GM - knife
euro 310
Buy online on:
http://www.coltelleriacollini.com/lion-steel-tispine-grey-matte-ts-1gm-coltello-5046/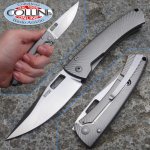 Lion Steel - TiSpine Violet - TS-1V - knife
euro 310
http://www.coltelleriacollini.com/lion-steel-tispine-violet-ts-1v-coltello-4595/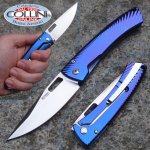 Lion Steel - TiSpine Grey - TS-1G - knife
euro 310
Buy online on:
http://www.coltelleriacollini.com/lion-steel-tispine-grey-ts-1b-coltello-4594/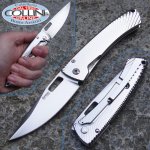 Lion Steel - TiSpine Bronze - TS-1B - knife
euro 310
Buy online on:
http://www.coltelleriacollini.com/lion-steel-tispine-bronze-ts-1b-coltello-4593/